Outpatients Guide
The Outpatients Department handles all problems related to diagnosis and treatment of the eye, including emergencies. It offers a comprehensive eye check-up which spans testing for refractive errors to detailed physical examination by specialists. Since the eye is a complex organ and there are many different eye conditions a complete eye examination which could take up to two hours, depending on the complexity of tests required. The various steps are as follows: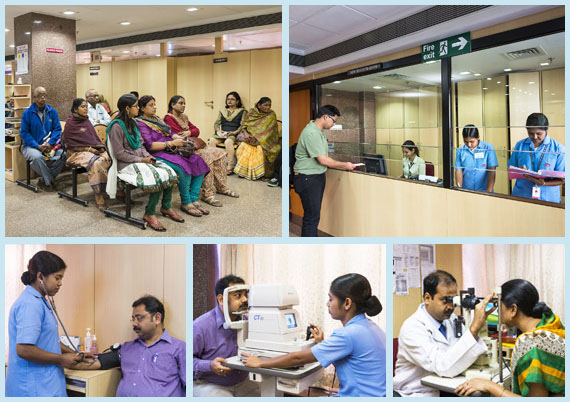 Registration
On arrival you will be asked to fill in a registration form. Please give your complete permanent address with telephone number. You will be asked to take a seat until our receptionist accompanies you to your vision test. If you are below 15 years of age, you will be taken directly to the Paediatric Ophthalmology department.
Vision test
A simple test to check your level of vision from an eye chart.
Refraction
An optometrist will place a series of lenses in front of your eyes and will ask which looks clearer. This test determines your exact eye power and your level of sight.
Preliminary examination
An ophthalmologist will carry out an initial examination of your eyes. Please advise the doctor of any previous medical history.
Blood pressure / Eye tension / Sugar test
For patients aged 40+, we will check your blood pressure, intraocular pressure and take a urine test for diabetes.
Dilation
The doctor in some cases may ask the optometrist to instill eye drops in the eye. This is to make the pupils bigger in order to get a better view of the inside of the eye. It may take thirty minutes for the pupil to dilate, so you will be asked to wait in the waiting room. You will experience blurred vision for two to three hours following dilation.
Final examination and diagnosis
After all the tests have been carried out, the doctor will carry out a final examination and depending on the results you will be guided to the specialty clinics.