Emergency
PBA Eye handles all kinds of eye emergencies including injuries, chemical exposures etc. round the clock, and seven days a week. Between 8.30 am and 6.30 pm, the hospital runs at full strength with doctors and paramedical staff (Except Sundays). Any emergency during this time is attended by doctors present at the hospital. After 6.30 pm, a Sister will attend to the patients and offer first-aid. She will also call the eye specialist who will decide the next course of action after immediate check-up.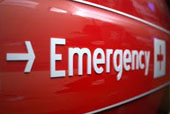 In case of any emergency related to the eye call us at
84 2000 8000
First aid tips
Before help arrives, there are certain first aid measures you can take to check the extent of the damage to the eye(s) by following a few steps:
In case of chemical exposure:
Don't rub eyes.
Immediately wash out the eye with water.
Continue flushing for 15 to 20 minutes.
If irritation persists get medical help.
Do not bandage the eye.
In case of a blow to the eye:
Don't rub eyes.
Apply a cold compress, but don't put pressure on the eye.
Take over-the-counter pain reliever.
If there is bruising, bleeding, change in vision, or it hurts when your eye moves, see a doctor right away.
In case of a foreign particle in the eye:
Don't rub eyes.
Pull the lower lid down and blink repeatedly.
If particle is still there, rinse with eyewash.
If rinsing doesn't help, close eye, bandage it lightly, and see a doctor.